Cleaning industrial containers such as canisters, vats or IBCs produce large volumes of effluent. The type of impurities in this effluent depends heavily on what has been transported in the containers. That's why effluent treatment requires a flexible system able to cope with all conceivable contaminants. Reconditioners are increasingly using modern vacuum distillation systems to do this. They work fully automatically, guarantee a high level of process reliability, minimal residue, and render a zero liquid discharge container cleaning process.
Why VACUDEST? Our vacuum distillation systems automatically adapt to changing effluent compositions. Numerous patented technologies ensure low operating and maintenance costs, and excellent treatment quality. And that's not all: The expert team at H2O offers turnkey solutions all under one roof. Including start-up and appropriate staff training upon request.
Read here why our customer Fass-Braun chose a VACUDEST system for its container cleaning.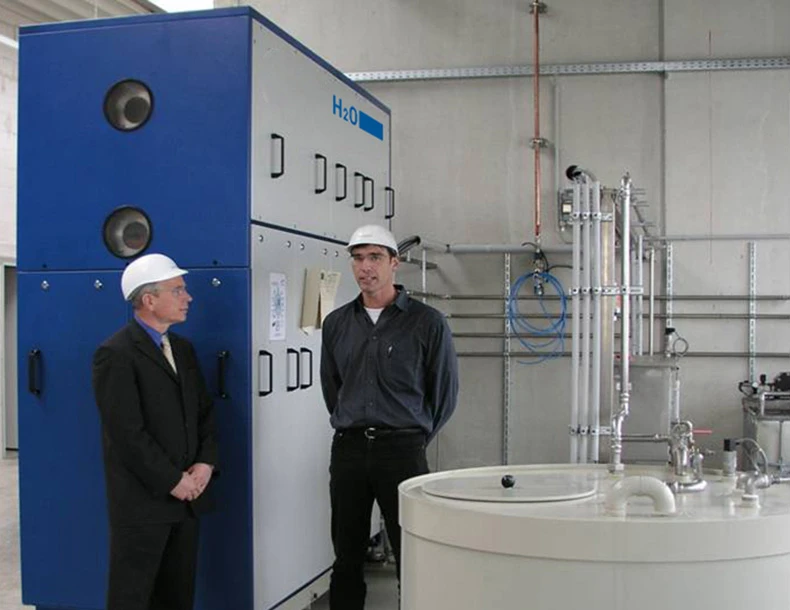 The new VACUDEST M1.500 at Fass-Braun GmbH.
Barrel and container cleansing requires efficient water treatment technology
During the cleaning process of empty barrels, cans or drums, huge amounts of waste water are accumulating. Due to technical and economic advantages more and more companies from the cleaning industry, decide to invest in modern vacuum distillation technology instead of conventional chemical physical treatment plants.
The company Fass-Braun GmbH from Hagen in Germany, decided not to dispose of their waste water any more. Instead a modern feasible waste water treatment plant should be installed. Mr. Nitsche, the plant manager of Fass-Braun GmbH, knew exactly what he wanted for his company when he decided to invest in a new waste water treatment system.
These are the points that were of utmost importance to Fass-Braun:
Flexibility regarding varying feed compositions and concentrations
Lowest possible consumption of chemicals
Low labour requirement
High process safety
Low operating costs
As little residue as possible
Zero discharge
On first sight it seemed not to be possible to combine all requirements in one system.
The chemical-physical treatment by acid cleavage and flocculation is common, however the disadvantages are high labour requirement and no possibility of zero discharge.
The membrane filtration has low chemicals consumption. One common risk using this kind of treatment, is membrane blocking and in order to that, high manpower requirement as well as high operating costs. Because of salt passing the membranes, recycling of the water is limited, thus zero discharge is not possible.
So, after a market research, H2O GmbH from Steinen could convince Fass-Braun with its innovative technical features of the VACUDEST- product range:
 The main attributes of the VACUDEST-product range are:
Automatic self cleaning heat exchanger, Activepowerclean
Automatic adaption on changing process water-composition
Very easy to maintain
Modular construction system with many upgrade options
Test showed technical differences
Mr. Nitsche did not only want to depend on the opinion of his colleagues and partner companies, so he compared evaporation units of different manufacturers under realistic conditions. He found out, that modern vacuum distillation units are perfect for the treatment of industrial wastewater occurring at Fass-Braun, as long as some rules are observed.
An Evaporation system can not treat every kind of waste water
Substances with a very low boiling point, solvents, as well as volatile substances can't physically get separated by vacuum distillation. Particles and mud as well as floating oil should be separated prior to feeding the waste water into the VACUDEST vacuum distillation system. Belt filters and oil separators offer in these cases good results. Waste water with ingredients that tend to cause scaling on the heat exchanger surface or water that has because of the temperature- polymerising ingredients, has to be disposed of separately.
At the end of the tests, for Fass-Braun GmbH there was no doubt, that the unit of H2O will be the best solution. Especially the very maintenance friendly layout convinced Fass- Braun, as well as the Activepowerclean technology and the reliability of the units. Aside from that, H2O sold more than 900 units worldwide and could bespeak the best references of all competitors.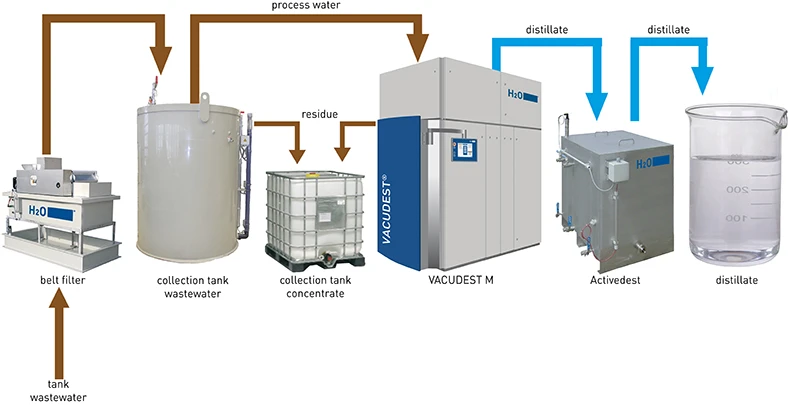 Turnkey systems from H2O include next to the vacuum distillation system also tanks, filters and piping.
H2O GmbH provides a complete solution
Besides the technical advantages of VACUDEST-units, H2O offers a complete solution. A team of engineers plans customised solutions for different kinds of waste water. It doesn't matter if the customer need collection tanks, pumps, pre- or post- treatment, H2O builds and delivers everything.
The following diagram shows the whole VACUDEST concept at Fass-Braun, as well as collection tanks for the waste water, the concentrate and the distillate. In addition to that, Fass-Braun got a band filter and an oil skimmer for the pre treatment of the process water. For the post treatment Fass-Braun receiveed an oil separator.
If desired, the units can get assembled ready to use at the customers premises. H2O Service Technicians started the units up, educated the operators and are offering a qualified service for the whole lifetime of the product.
VACUDEST-units available in 17 different sizes
After trying out different evaporation units from different producers, in autumn 2004, Fass-Braun decided to invest in a VACUDEST M 1.500 from H2O GmbH. The VACUDEST M 1.500 is one of 17 different sizes, which H2O offers to their customers. VACUDEST are available from 180 to 30.000 l/a. Conclusion of Fass-Braun GmbH The cleaned water is of high quality and so it is possible to recycle the distillate to the process, thus zero discharge is achieved. The amount of the evaporation residues varies depending on contaminations and is clearly under 15 %. The construction of a whole VACUDEST system is compact and leaves a good mark.
The VACUDEST M 1.500 of Fass-Braun has entirely delivered all expectations. Because of the very good experience with H2O, Mr. Nitsche also wanted to treat different production-waste water. So, Fass-Braun ordered a second unit – a VACUDEST L 6.000. Of course there was no doubt for Fass-Braun to invest in a H2O unit again.
You want to produce wastewater-free in your company? Contact us.