Rinse-water reconditioning is increasingly gaining importance in paint pre-treatment, and has become an essential, quality-defining processing step in recent years. It is for this reason that more and more factories are using vacuum distillation systems to recondition rinse water during paint pre-treatment. The advantage of this type of system lies in the quality of the reconditioned rinse water.
For 30 years, the experts at our application centre for zero liquid discharge production have been constantly developing innovative technologies which significantly improve the quality of the distillate. For example, the patented Clearcat technology uses a sophisticated system to produce a crystal-clear distillate which reliably upholds all quality requirements. Our Destcontrol pH regulator maintains distillate quality at an excellent, constant level thanks to precise dosing directly in the evaporator sump. This and many other technologies are what make our VACUDEST vacuum distillation systems unique on the global market, and guarantee users top quality in surface technology processes.
The following application example shows how satisfied our customer Hailo is with the solution employed by H2O to recondition its rinse water resulting from painting pre-treatment.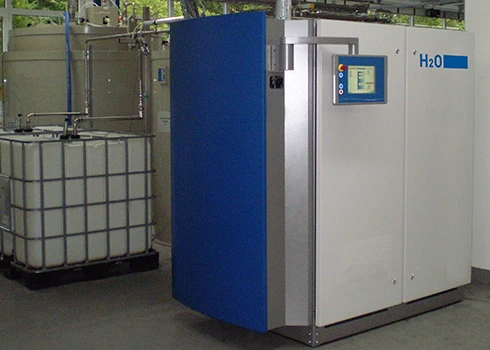 Modern process water treatment made by H2O.
Cut operation cost Improve process security
Process wastewater treatment in plating and surface technology: An unloved topic?
Operators in the metal processing industry know the topic process waste water treatment very well: During plating and surface technology processes waste water is occurring which is an annoying evil. Treatment or destruction with waste management companies? The question is answered more and more often with treatment, due to cost savings. But which is the most efficient technology? Which technology offers the lowest operation cost and a good quality of the treated water allowing recycling an a zero liquid discharge production? The case of metal goods producer Hailo, Haiger in Germany, shows: Low operation cost combined with high reliability and process security is possible, when using modern vacuum distillation technology.
In processes like copper plating, chromium plating nickel plating or phosphatising large amounts of rinsing waters are needed after each process step. This rinsing water is often treated right away to remove heavy metals and toxic components.
Conventional treatment: Chemical – physical process
In many cases conventional chemical physical treatment processes are applied. The process water is neutralised by means of acid and/or lye. Excipients and additional process steps are used to convert critical components like cyanides or chromium acid. Following a flocculation agent is used to precipitate sludge containing heavy metals, oil, and fat. The clear phase can be drained into the public sewer system if all legal limits are kept.
Investment cost for such kind of treatment are rather low. Operation cost for chemicals, man power, especially when the water composition is fluctuating, are on the high side. Special care has to be taken when controlling legal limits for the clear phase before releasing it into the public sewer. Fresh rinsing water for the rinsing steps in the process has to be produced from fresh town water since the salt content of the clear phase from the chemical physical treatment is by far too high.
Modern treatment: Vacuum distillation
As an alternative to the chemical physical process thermal treatment of the waste water is possible as well. Vacuum distillation uses the principle of separation due to different boiling points: Substances with high boiling points (oil, fat, heavy metal salts) are left as residue when evaporating the waste water - like salt and lime are crystallising in a tea pot which has been forgotten on a hot oven after all the water has evaporated.
In a vacuum distillation system the used rinsing water is evaporated under vacuum at about 86 °C. The emerging steam is compressed to atmospheric pressure and heated to about 120 °C by means of a roots pump. This slightly super heated steam is used to evaporate the waste water which is fed into the vacuum distillation system. Due to the fact that the steam is used for heating, the process has an energy efficiency of about  95 % compared to atmospheric evaporation. The resulting distillate is virtually free of heavy metals and salts. Disposal limits for heavy metals are kept easily. Depending on quality requirements the distillate can directly be recycled to the process to replace usage of demineralised fresh water for rinsing. Even if conductivity requirements for the rinsing water in the process are very high (< 10 µS cm) only little effort is necessary to post treat the distillate by ion exchanger to enable recycling. Thus a zero liquid discharge process is created.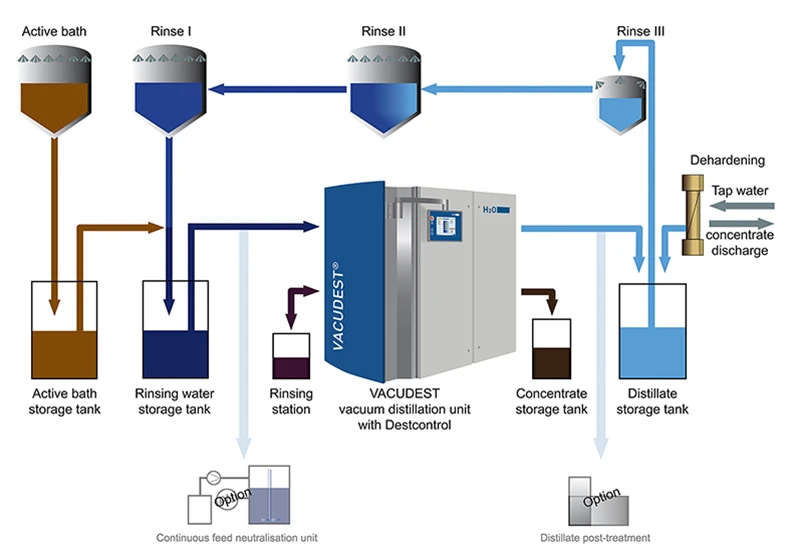 Process security – afraid of exceeding legal disposal limits?
No company applying plating or surface technology processes is fond of taking care of process waste water treatment. This process is not directly linked to the production process. It must rum reliably not creating to much efforts.
Due to the fact that vacuum distillation is a physical process it offers important advantages regarding process security and reliability compared to the chemical physical treatment. Especially heavy metals and salts are separated reliably. There is no danger to release toxic substances into the public sewer, exceeding legal limits, because by accident the wrong flocculation agent has been used or the pH has not been adjusted properly. Even better the vacuum distillation offers the possibility to recycle the treated water to be used as rinsing water. Then a zero liquid discharge production is created and the drain can be closed. Then there is no danger any more to exceed any limits at all.
Operating cost – Is the evaporator an energy guzzler?
Very often the evaporation is considered as very energy intensive. For older generations of distillation plants this might even be true. The modern VACUDEST- process only consumes between 35 and 70 Wh per litre of treated waste water (depending on capacity of the system). Energy consumption is still high compared to chemical physical treatment; however this is compensated by other cost saving advantages:
Lowe cost for consumables: No iron salts, milk of lime, flocculation agents and other chemicals are needed, other than a small amount of cleansing agents for the CIP system.
Less operation efforts: The evaporator requires 70 % less man power than a chemical physical treatment system.
Lower cost for the treatment of the fresh water, since the distillate can be recycled.
Low investment cost are not important - Low operation cost ensure tomorrows earnings!
The decision in favour or against a waste water treatment system is not an easy task. It is important to study many different influencing factors; however even in times of tight investment budgets low energy consumption, less operation efforts as well as independence of water authorities have to be considered carefully.
An exemplary calculation of cost of operation :
Basic facts:

Amount of waste water:

500 m³/a

Fresh water cost:

4 €/m³

Operator cost:

35 €/h

Electricity cost:

0.10 €/kWh
| | | | |
| --- | --- | --- | --- |
| Unit | Explanation | Chemical-physical treatment | VACUDEST |
| Energy - cost | Electricity consumption of the evaporator of 60 kWh/m³, Electricity consumption of the chemical physical treatment 15 kWh/m³ for pumps, agitators etc. | 1.20 €/m³ | 4.80 €/m³ |
| Operating - efforts | Operating efforts of the evaporator is 2 h/week compared to 10 h/week for the chemical physical treatment system. | 36.40 €/m³ | 7.28 €/m³ |
| Consumables / chemicals | For the evaporator rinsing chemicals for the CIP process are required as well as acid or lye for the adjustment of the pH, average cost are 3 €/m³. Chemical physical treatment requires acid, lye, milk of lime, flocculation agent and depending on water composition special chemicals, minimum cost are 4 €/m³. | 4.00 €/m³ | 3.00 €/m³ |
| Fresh water treatment | When using an evaporator and a zero liquid discharge process only evaporation losses and losses due to residual water in the evaporation residue have to be compensated (about 10 % of the total amount). In case of the chemical physical treatment the clear phase is released into the sewer, fresh water must be treated to be used as rinsing water in the process. | 4.00 €/m³ | 0.04 €/m³ |
| Wear-, tear- and spare-parts | Wear-, tear- and spare-parts are estimated to be about 4 % of the investment cost. An evaporator for 500 m³/a costs about 100.000 € compared to 50.000 € for a chemical physical treatment system with the same capacity. | 2.00 €/m³ | 4.00 €/m³ |
|   | Total specific treatment cost | 47.60 €/m³ | 19.12 €/m³ |
Hailo in Haiger is a producer of high quality metal goods like holding steps and waste collector systems for private households as well as professional climbing aids for industrial customers. They decided in favour of a VACUDEST vacuum distillation system for the treatment of waste water from different surface technology processes.
A zero liquid discharge production has been created due to recycling of the distillate to the rinsing steps. Most important factors for their decision were operating efforts, reliability, operation cost and process security. After consideration of these factors the Hailo project team could take an easy decision in favour of a VACUDEST vacuum distillation system.
You want to produce wastewater-free in your company? Contact us.