Heavy use, material fatigue and material faults can cause tiny cracks in plastic and metal parts. These are so small that they are invisible to the naked eye. But they can still be relevant to safety, e.g. on the wings of passenger jets. That's why these parts are regularly checked for micro cracks.
One way of doing this is the dye penetration process, where the part to be checked is first thoroughly cleaned. Applying a special dye and using a suitable developer, the tiniest cracks become visible on the surface, enabling defective parts to be easily identified and replaced. If the crack check reveals no problems, the transfer agents are washed and approved for further operations.
But what happens to the resulting wastewater? It cannot be discharged into the public sewer system due to chemical contamination. It usually has to be disposed of with specialized waste management companies at high cost.
The VACUDEST vacuum distillation system is an economical disposal alternative. This internal wastewater treatment enables zero liquid discharge crack checks. And you'll save up to 98 percent in disposal costs!
The rapid return on investment is another advantage: Thanks to VACUDEST's low operation costs and sophisticated energy recycling, the investment in the vacuum distillation system usually pays off after 2 years.
Another MRO company goes wastewater-free!
Jet Aviation in Basel, Switzerland, is using a VACUDEST vacuum distillation system to efficiently and sustainably treat wastewater left over from refurbishing aircraft parts. This state-of-the-art system replaced outdated chemical-physical treatment at the company. Jet Aviation is particularly pleased with the high quality of the treated water, which can even be reused in maintenance processes. This allows the company to conserve freshwater resources and make a valuable contribution to protecting the environment.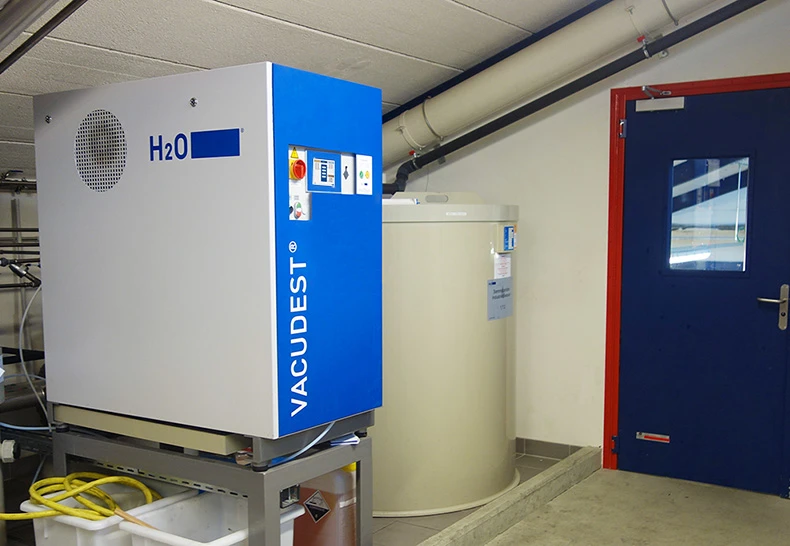 "A simple, clean solution," says Lindgens of his company's VACUDEST XS 180, which is housed on the top floor of Jet Aviation.
Jet Aviation supplies aircraft interiors from its Basel location, where the company maintains its own joinery, saddlery and tinsmith's, painting and fibreglass workshops. The company also focuses on maintenance, repair and refurbishing (MRO) work for aircraft. Jet Aviation performs maintenance work on business and private jets and also services standard business aircraft jet engines. The following three departments produce heavily charged wastewater that cannot be simply discharged into sewerage systems:
Wheel Shop (aircraft wheel refurbishing)
Engine Shop (turbine refurbishing)
Non-Destructive Testing
The Wheel Shop is chiefly responsible for inspecting aircraft wheel rims to detect cracks and corrosion. Prior to these inspections, the soiled aircraft wheel rims are cleaned in an ultrasonic bath with special alkaline cleaning chemicals in order to remove impurities. The wheel rims also need to be blasted with plastic granulate to remove all paint. Afterwards, all of the wheel rims are washed with distilled water and prepared for crack testing.
Various different jet engines and auxiliary power units (APUs) are refurbished in the Engine Shop. The jet engines and APUs need to be disassembled from one another and broken down into their individual parts. The soiled individual parts are then cleaned with alkaline cleaning agents in ultrasonic baths.
The Non-Destructive Testing department submits the most important aircraft parts, engine parts and aircraft wheel rims to crack testing. This work step involves using an oily fluorescent penetrating agent. All of the parts that need to be tested are sprayed with fluorescent test oil across their entire surfaces. After the oil has been allowed to sink in for a certain period of time, it needs to be washed off of these surfaces.
The wastewater left over from the processes described above contains many impurities, such as oil, dust, particles and heavy metals and cannot simply be discharged into sewerage systems.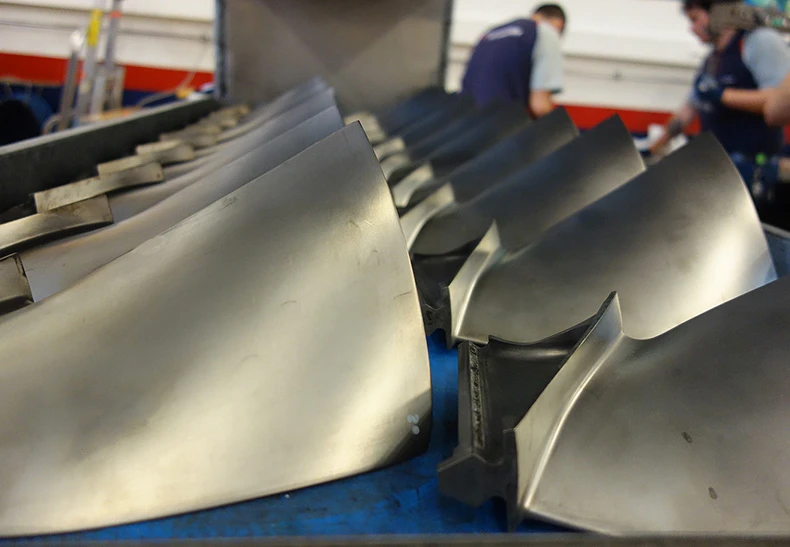 The wastewater left over from refurbishing turbine blades is cleanly and efficiently treated with a VACUDEST vacuum distillation System.
Initial situation
In the past, the ultrasonic washing water from the Wheel Shop and Turbine Shop as well as the crack testing water were treated using large activated carbon cartridges and then discharged into sewerage systems. "This method required a great deal of supervision – the activated carbon needed to be switched out and disposed of very frequently," explains Jürgen Lindgens, Manager of the Non-Destructive Testing department at Jet Aviation. Lindgens is responsible for wastewater treatment in this department, among other things. Moreover, the required limits were not always met, in which cases the cleaned water could not be discharged and had to be picked up by waste management facilities: a costly task.
"As a state-of-the-art company, we were dissatisfied with that situation, so we went off in pursuit of more reliable technology," Lindgens continues. Lindgens and his team learned of H2O and VACUDEST vacuum distillation technology through numerous recommendations from fellow MRO companies.
An economical solution thanks to low energy consumption
VACUDEST vacuum distillation systems allow impurities contained in wastewater, such as oils, salts and heavy metals, to be separated from clean water through evaporation. Since the system directly uses the energy generated during steam condensation for evaporation, the level of energy consumption is very low and the system operates in a very economical manner. Intrigued by this prospect, Jet Aviation held project discussions on site at EuroAirport Basel Mulhouse Freiburg. Once the offer had been inspected and approved, H2O received an order for a turnkey solution. Alongside the VACUDEST XS 180 vacuum distillation system, this solution also included all of the relevant accessories:
2 m³ industrial wastewater collection tank
Two automatic rinsing systems for VACUDEST with alkaline and acidic cleaners (VacuCIP)
Residual oil separator to ensure the highest level of quality in cleaned wastewater (Activedest)
2 m³ collection tank for the cleaned wastewater
1 m³ collection tank for the concentrated residues
Piping and cabling for all components
Commissioning and operator Training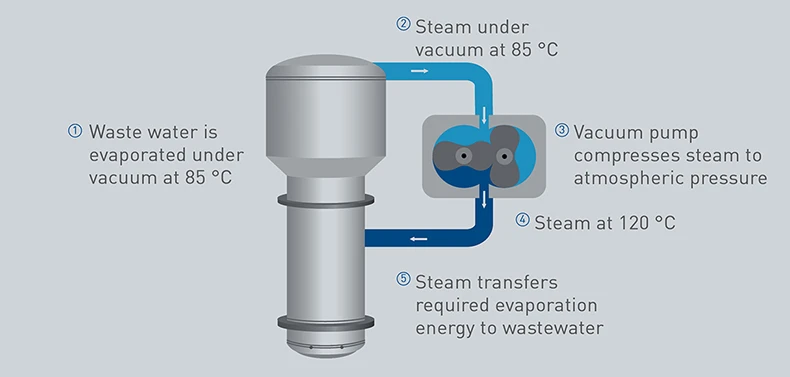 The energy generated through steam condensation is directly used to evaporate the process water. This eliminates the need for external evaporation energy, making the system highly energy-efficient.
VACUDEST enables recycling
Ever since the complete system was installed, the VACUDEST XS 180 has been treating 180 m³ of wastewater annually and creating clean distillate that can be directly reused in washing processes after simple post-processing with an ion exchange cartridge. This ensures that the water from the relevant water flows no longer needs to be discharged or removed and that the applicable limits cannot be exceeded.  Jet Aviation is now wastewater-free. Project Leader Jürgen Lindgens is very happy about this, and confirms: "I am very pleased – ever since the VACUDEST was installed I haven't had to work with disposal authorities anymore."
The VACUDEST is 100 per cent automatic and distinguished by its low maintenance costs. This allows Jet Aviation to focus on its core business: maintaining and refurbishing turbines and aircraft wheels.
Interested? Then contact our experts! We'll find the perfect solution for your crack check, so you too can enjoy a wastewater-free future.